Portable Restroom Services in Northern Colorado
We care about your work and your reputation. Your portable restroom units will be on time, clean, ready to use, and well maintained. Peace of mind. Delivered.



WE KNOW YOU'D RATHER FOCUS ON LITERALLY ANYTHING ELSE.
Your portable restroom rental should be out of sight, out of mind. Unfortunately, when you notice it, there's usually a problem. The number of things that can go wrong can become a bottomless pit (pardon the pun) of annoying hassles. Clients and crews complain. The effort to fix the problem distracts you from other important details. And when things don't go as planned, you risk more than time and money – you risk your reputation.
Unsightly or smelly units
Slow response times from your vendor
Out-of-state customer service
Distractions from more important matters
THE HASSLE CAN BE AVOIDED.
We care about people, good service, and your reputation.
PRS HAS A BETTER WAY.
Top-Quality
You can rest assured we have the skill, knowledge, experience and equipment to exceed all your expectations.
Ultra-Clean
Our maintenance team cleans
your unit at every service, taking great care to ensure it arrives clean and stays clean.
Timely Deliveries
Your unit will be installed where you need it, when you need it. Promptness of delivery and removal is a company priority.
Reliable Service
We're locally owned and operated. Which means when you call, you get someone live on the line. And our team is never far away.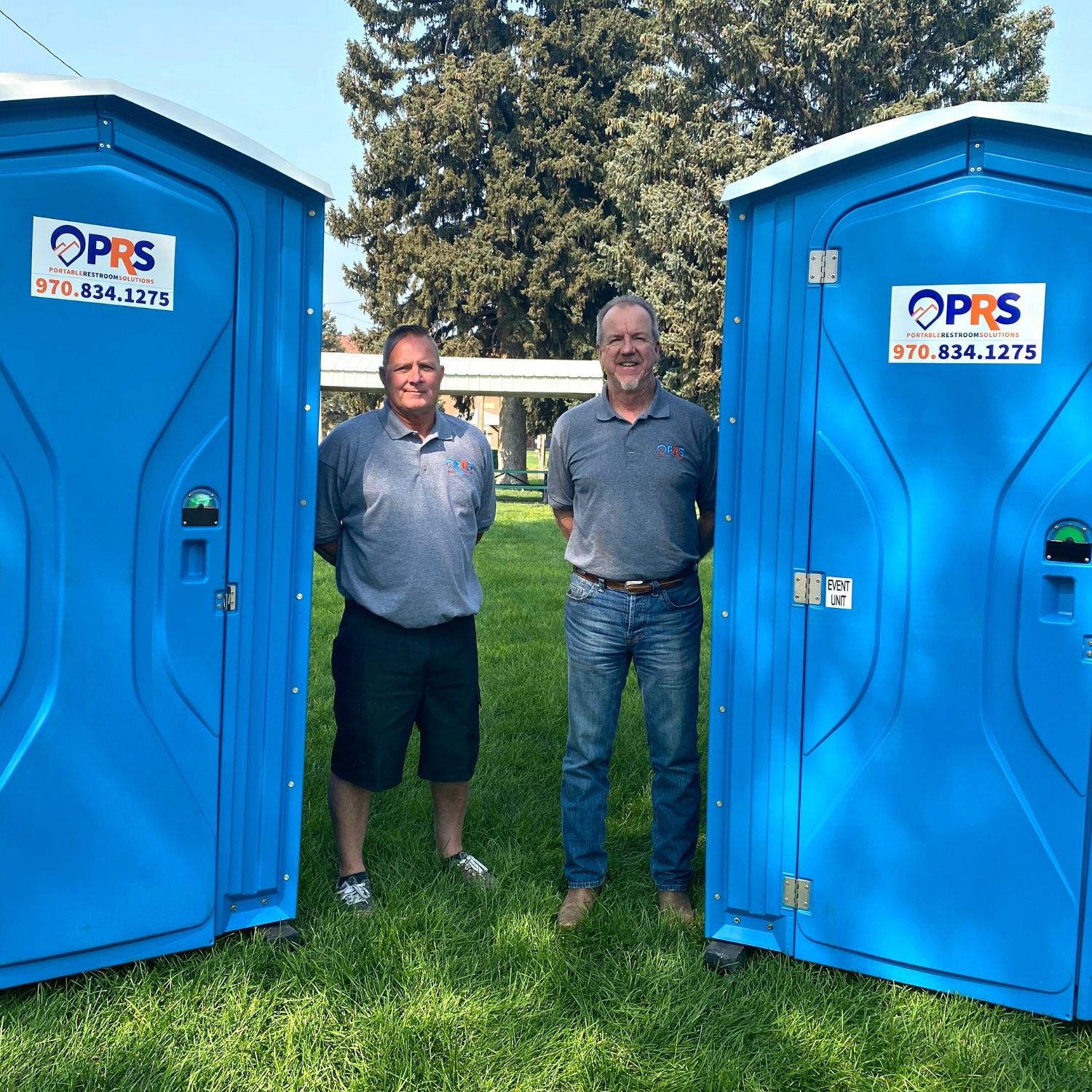 WITH PORTABLE RESTROOM SOLUTIONS, YOU CAN HAVE PEACE OF MIND.
We understand the headaches that are possible with your portable restroom rental and how to avoid them. We've been a locally-owned business in Northern Colorado for 26 years and have provided hassle-free porta-potty experiences for more than two decades.
IT'S EASY TO WORK WITH US.
You shouldn't have to be distracted from your real work to deal with problems resulting from a negative porta-potty experience.
We're the dependable, out-of-sight, out-of-mind solution so you can focus on everything else.
You'll talk to a real, local person who will listen and help determine your needs.
Your units will be on time, clean, ready to use, and well maintained.
You'll have confidence in every step of the process. Peace of mind. Delivered.
Don't take our word for it.
From a big concert to an epic race, a beautiful custom landscaping project to an entire neighborhood of new homes, we love being a small part of much bigger dreams. 
We have used PRS since 2001. They have always given exemplary service, and strive to always have units delivered and picked up in a timely manner. I would not hesitate to recommend their services.
Every year, without fail, we find your portable restrooms to be very clean and well-stocked with both toilet paper and hand sanitizer … there are a lot of moms who really appreciate your efforts in making sure these restrooms are in great shape for when we take our little ones to the restroom.
We are pleased with your service, detail of cleanliness, promptness and delivery and removal of units when needed. It's not necessary to follow up on requests and we consider them very reliable.
Centennial Livestock Auction Co. Inc.
Skip the hassle and enjoy the freedom of focusing on more important matters.
At Portable Restroom Solutions, we know you want to have a headache-free experience while booking your porta-potty. In order to do that, you need a reliable source for your portable restroom needs. You want to have confidence it will be serviced properly, delivered on time, and be clean!
The problem is if something goes wrong, you're the one fielding the complaints! And on top of that, dealing with the resulting hassles only distracts you from your more important work. This is beyond frustrating.
We get it. This isn't where you want to spend all your time. Call us and get a quote today. You'll talk to a real, local person who will listen and help determine your needs. Then rest easy knowing you can turn your attention to more important matters.
FREQUENTLY ASKED QUESTIONS
How far in advance should I reserve a portable toilet?
Although we advise that you reserve your portable toilet rental as far in advance as you are comfortable, a general rule of thumb would be to book your Porta Potty rental at least one week in advance. During peak times of the year, particularly in warmer months, inventory of portable restrooms may be limited. The larger the project or event, the more lead time is advised to ensure we have the chance to properly evaluate your needs, assign rental assets and deploy the resources to your site in a timely fashion. Call us today for help with your event or project.
How do I know how many portable restrooms to use for my event?
Events can have many different variables…will attendees be primarily male or female, will there be alcohol served, how many hours will the event be open, is it a multi-day event?
Call our professional staff
to get help planning your event today!
How much does it cost to rent a porta potty?
There are a few factors to consider that can affect the total Porta Potty rental price.
What is the length of my event: hours, days, weeks, months? The length of time the unit will actually be in use directly affects how many toilets you might need to order. Weekend event portable toilets and sinks are typically delivered on a weekday leading up to the event and picked up on a weekday following the event. Weekend delivery, service or pickup is available at an additional charge. Give us a call to talk with one of our personable staff to discuss your specific needs.
Am I required to have a portable restroom on my job site?
Good question…it depends on the location of your job site. It is best to check with your local regulations for specific guidelines.
Where will you place my portable restroom?
We will do our best to place our portables in the location that you request. We have certain restrictions based on access for service, but will work with you to place them in the location that meets your needs.
Are your portable toilets environmentally friendly?
Yes, we use products designed specifically to be friendly to the local wastewater treatment systems and are approved by the local wastewater system operators. Plus, portable toilets use far less water than flush toilets, which is important in our part of the country!
Does having a portable restroom on my construction site really cut costs and save time?
By providing a portable restroom on your job site, you can reduce the distance employees must travel to use a restroom, as well as the time employees must spend searching for an alternative facility because no close restroom has been provided. The following chart was developed in a study conducted by the Portable Sanitation Association International (PSAI).
The annual cost of 10 minutes of wasted toilet time per employee, per day:
| | |
| --- | --- |
| Hourly Rate | 5 Employees |
| $8.00 | $1670.00 |
| $10.00 | $2125.00 |
| $13.00 | $2762.50 |
| $15.00 | $3187.50 |
Formula: Hourly rate divided by 60 minutes per hour x 10 minutes x number of employees x 255 days per year.
For more information regarding this study, please contact the Portable Sanitation Association International at 1-800-822-3020.
Do you have a question not answered here?
Give us a call to talk with one of our personable staff. You'll reach a live, local person – not a call center in another state!
We are happy to talk through all of your portable restroom needs and questions.